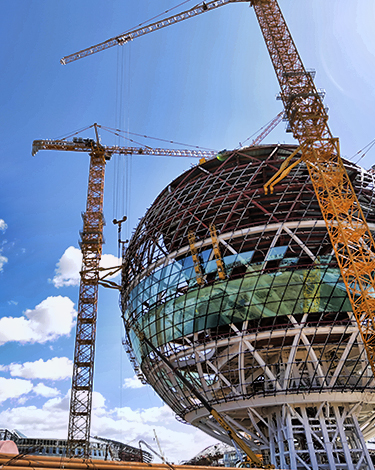 «National Coating» was established in Kazakhstan in April 2007 for providing inquiries of growing economy of Kazakhstan in professional management of industrial and civil objects construction, and qualitative paints and varnish production.
One of the key challenges has been access to international trade markets with innovative quality Kazakhstan brands, not conceding on the parameters of the world analogues, and on some characteristics of their superior.
In connection with the need of high quality and timely work performance, our company has entered into cooperation with a number of construction companies and currently the cooperation continues.
The result of such cooperation is the management of projects from the Customer's Plan to the delivery of the finished object "turnkey", which is the undoubted benefit of any Customer in financial and time terms.
In our assortment fire-resistant (developed with participation of Research Institute of Combustion Problems) and anticorrosive coverings, other paint and varnish production for a wide range of application, as well as structures for drawing a road marking. All products are certified, passed numerous tests, and corresponds on the characteristics to the best world analogs.
Our highly qualified specialists, specially trained and certified, can offer a full range of services: from engineering design and budgeting, to the actual high-tech application of any coatings, installation and high-rise works and will choose for you the coating system and methods of products application that will be guaranteed to fit the conditions of each specific object.
We see our mission in developing and producing the highest quality products and services at the level of the world's leading companies to meet the needs of Kazakhstan economy as well as foreign markets.
Safety, Durability and Environmental friendliness of industrial and civil facilities provided by National Coating is our business card and our contribution to the development of the country.
We guarantee quality, speed of work and optimal budget.